Interview with DAISY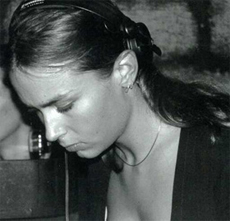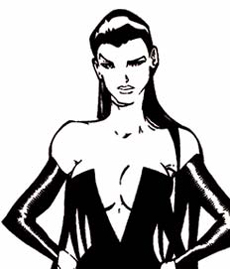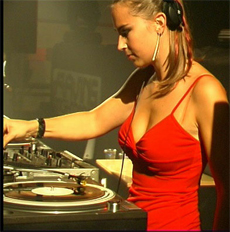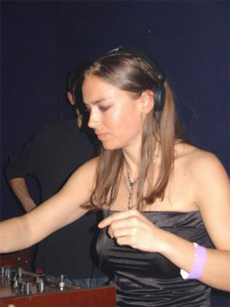 1. First of all, how did you get into Hardcore and Techno music then?
I started as a DJ in 1998, because I had a very good experience with techno parties and I wanted to become more implicatednvolved in the French electronic music movement/culture. My very first gig took place in the east of France, then I co-founded an association called "Insomniacs" and I played regularly in Paris and in many french cities. I started producing tracks in 2001 with Alex K. I've been travelling a lot accross Europe for several years now and lately I joined the french label "Epileptik".
2. Do you prefer one style more than the other?
Not really, I love both and I "need" both. I couldn't imagine to drop one of those two styles.
3. Your Dj name Daisy is an obvious choice as it is also your real name, what about the name Mandragore which is sometimes on flyers and records? Also is there any differences between the sounds you play / produce under different aliases?
At first I wanted to have a DJ name for the hardcore gigs and another DJ name for the techno gigs. Then I found this name "Mandragore" ("Mandrake" in English), which is a plant that was used for witching. It was perfect for the hardcore gigs… though I only use it for the hardcore gigs in France (with Daisy for the techno gigs). However, abroad it is "Daisy" for all the gigs. There are no differences between the sounds I play and the sounds I produce.
4. In the last few years you have made a good name for yourself, having played all over the world and seem to in particular to have made a mark on the massive Dutch hardcore scene with frequent high profile bookings, what advise would you give up and coming DJs trying to get recognized? Also what do you think have been the key factors in your success?
I would give this advise to upcoming DJs: "Just play the music that you truly love", no matter what the "hype" is. It has to be real! Because you always know when a DJ plays with his heart.
The key factors in my "relative success" would probably be the people that I met during all these years and who gave me a chance.
5. Have you found as a female rather than a male in the music business, the path of your career harder or easier?
I think that, in the first place, it might appear easier - being a female DJ – but actually we have to prove even more than male DJs that we are good at spinning records.
6. How do you think the rave scene compares in different countries you have experienced such as France, Netherlands and the UK?
The french electronic music scene has been decreasing since the last few years. The politicians want to kill the electronic movement because they are afraid of it. Lots of clubs and bars were closed so it's getting more and more difficult to promote parties here and unfortunately I don't have a good feeling about the future of the french scene.
It is well known that the dutch rave scene is the biggest in the whole world. All the dutch parties I've been to were perfectly organized. It's a real business out there and all the promoters are very professional. It's always a pleasure to go for a gig in the Netherlands.
About the United Kingdom, I must say that the hardcore scene seems to be pretty small but the audience has always been very enthousiastic and of course I appreciate it a lot!
7. Do you prefer playing parties at home or abroad, and what has been your best experience playing out (if you can name one)?
I like to play everywhere!! as long as the monitors are loud enough… I had lots of very good experiences: Defqon.1 festival in 2005, Mysteryland festival in 2003, Tellurik in 2006, the Raving Nightmare parties…
8. Apart from Djing you also have released a number of your own tracks please tell us about your productions?
Here is the list of all my released tracks:
Mirage 009 – Techno
Untitled, Mandragore (Daisy & A. Kahn),
may 2002
Expiration
Rotary Mandradore Remix
Gazole 013 – Hard Techno
Untiltled, Mandragore (Daisy & A. Kahn),
october 2002
Bazar
Electric Death
Hypnogène
B.E.A.S.T. 023 - Hardcore
Untitled, Daisy aka Mandragore, december 2002
Freaky Animal
Kick It
Phantomette
Otaku 003 - Hardcore
Illogical, Daisy vs Dr Macabre, june 2004
Illogical, Daisy aka Mandragore
Seems to be quiet, Daisy aka Mandragore
Massaki, Daisy & Dr Macabre
Illogical Remix by Dr Macabre
Ebe Company 015 - Hardcore
C.O.G. EP, Daisy aka Mandragore, september 2004
600
Back from Hell
Kiss Me
The Third Movement 060 - Hardcore
Sacrum, Daisy aka Mandragore, february 2005
Sacrum, Daisy aka Mandragore
Sacrum Remix by Promo
Obstinate, Daisy & Promo
Full of Ambition, Daisy & Promo
Demolition Part 5 - Hardcore
Various Artists, april 2005
Back and Forth, Daisy
Insp-her-ation, Promo
Everyday again, D-Passion
Kulta, Peaky Pounder

Available on TTM shop
Zebra3 NT01 – Tech-house
Various Artists, april 2005
Une nuit de trop, Daisy & Alex K
Yours, Da Fresh
My last way, Bastien Grine
Just a little pleasure, Alex Millan
EBE Company 016 - Hardcore
Various Artists, december 2005
Ritkermore, Masters of Noise
Darker, Masters of Noise
Guns, Daisy aka Mandragore
You can also check:
http://www.djdaisy.com/releases.html
Lately I made several tracks with Radium, Al Core and Stormtrooper. They should be released soon.
9. Which other producers, labels and DJs do you rate at the moment?
To me SpeedyJ is the most brilliant producer, but there are many others, among them: Manu le Malin, Promo, The Outside Agency…
10. Apart from Techno/Hardcore what other music do you enjoy?
I like electronic music a lot, but also jazz, trip hop and soul music.
11. Is music your full time occupation or do you do other work? Also what are your hobbies/past-times?
DJing and producing became my full time job. My hobbies are biology studying, books reading and sports (badminton, snowboarding).
Thanks for the interview, any last comments?
I'm looking forward to coming again to Scotland for Impact!
Interview by Al Twisted, March 2006

Catch DJ DAISY at IMPACT, Visions, ROSYTH - Saturday 4th March
For Bookings in the UK & Ireland please go to Twisted Agency


© 2006 scottishhardcore.co.uk - No un-authorized nicking
15