Interview with SPINBACK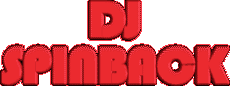 How did you first get into the 'Hardcore' scene?
In '91 the Hardcore scene could not have been further from my mind! Back in those day's I was a 'funky' chart DJ, playing at places such as EQUINOX and CRAZY LARRY's. A year later and eager to move to pastures new, I found myself curious about the Hardcore scene, introduced to me by an unknown DJ called FUTURE, unbeknown to me at the time, the Hardcore scene has turned out to be my 'Future' for several years now!
When did you go about setting up London's biggest pirate DREAM FM?
After getting my toes wet, so to speak, with station's such as STORM, KOOL, DON and ENERGY FM, I decided to take it a step further at start my own station called GLOBAL FM, this station ran for 6 month's before I got bored of the name! hence, DREAM FM was born. This station initially started broadcasting only on weekends but very quickly progressed to seven days a week and proved to be London's number one Hardcore station.
After DREAM FM you went on to DREAM MAGAZINE which seems to be on hold at the moment, whats the story with that then?
Dream Magazine will not only be making a comeback, but it will be a comeback for good and it's going to be nothing short of 'huge'! The re- launch will hit the shelves on the 24th September, backed by a new publisher. Dream Magazine coming off the shelves was a tremendous disappointment to the team that made it happen every month along side the editor, NICK BRADLEY and myself, of course we done everything possible to try and prevent this from happening but oblivious to us, our publishers at that time were going down, and basically failed to tell us until it was to late. But now Dream's back, it's looking good and it's here to stay!!
How do you feel about the state of the 'Rave' scene at the moment in the UK?
The rave scene has indeed hit a bit of a low but I think this is only in the UK, certainly in countries such as Germany, Japan & Australia it's positively thriving. I think for the rave scene to have hit such a low point maybe because there's just too much going on now, you know? I mean there was a time when everything was hardcore, and then over a period of time the scene has split into various different directions i.e., D'n'B, Happy, Techno, Trance, Old Skool, House and so on... so that now we have what used to be a strictly hardcore following going off into different areas of music as it is introduced to the scene. But hey, there are people born everyday and as long as tracks like "Images Of You" by QUEST of UK DANCE RECORDINGS and "Follow The Sun" by JIMMY J, can keep hitting the Hardcore scene, new people will convert and the hardcore followers will stay.
Tell us about the events you are promoting at the moment?
At present, I am not promoting any events, IMO, a mail order catalogue that myself and my partner started up is keeping me very busy indeed, but in saying that, I do have plans for an event in the pipeline and it will be in conjunction with IMO. My last event, being VERTIGO in '97 held at Roseberry Warehouse in Hackney was a great success for me, I was lucky enough to have all the top name DJ's and MC's i.e. VIBES, FORCE & STYLES, SY, NICKY BLACKMARKET, MC MC, GQ, FEARLESS, RUFF & MAGIKA, most of these guys were there as a favour to me which I will never forget and always appreciate. Before that there were the DREAM events, fourteen in total over a period of approximately three years, they were all a complete sell out, and there was just one other event before the Dreams...I will always remember it, much as I would like to forget ..EVOLUTION in '94 at the Wax Club in Leytonstowe, I could count the people that turned up, it was thirty in total and most of them were my friends! very badly organised and advertised, I have thankfully learnt a lot since then! Anyway, I have said too much already, next question?!
When you are not dj'ing and producing what sort of stuff do you?
Well, as I mentioned earlier, INTERNATIONAL MAIL ORDER takes up the majority of my time, it's a catalogue centred solely for the dance industry, so I am never too far from 'the scene' so to speak. And for fun and entertainment, Sara my girlfriend gets me back to the real world with picnics in the park and gruelling sessions in the gym!
Have you got anything new planned or in the pipeline, Tunes, Magazines, Events, absolutly anything really?
You know, I have got so many things in my pipline, basically everything mentioned in your question and more. Yes I have many tunes planned for this year, I will be producing tunes with various people such as SY & UNKNOWN, JIMMY J, VINYL TRIXTA and a fairly new DJ called SERVO. We have Dream coming back next month and many more idea's to run in conjunction with IMO the catalogue. I also have a new manager with ideas to promote 'SPINBACK' the DJ twice as hard for the next couple of years at least. Outside of the scene? well a holiday would be nice, but so would the time. Look's like I will have to settle for those 'picnic's in the park'!
Interview by Al Twisted, 1998
© 1998 scottishhardcore.co.uk - No un-authorized nicking
7