Interview with SMURF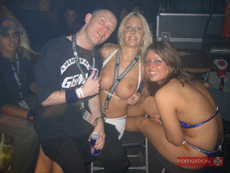 How did you get into the scene, and into Dj'ing?
My first record I bought was a 7" of Stand & Deliver by ADAM & THE ANTS. When I bought it, I got home and me Mam was upstairs, when she came down, I put on a Zorro mask, got me plastic sword with chalk on the end, put 'Stand and Deliver' on the record player and jumped out on her shouting 'Stand & Deliver', making her jump, she stumbled back and broke me Bionic Man Rocket toy in half, bahh.
After this I got into the electro/hip hop/breakdancing scene, going to a club called TIFFNAYS in Newcastle on Saturday afternoons, wearing big knee pads, chunky illuminous laces in big white boots with 'Pod Men' and other key rings hanging from them, spinning around on my kneck and body popping.
After a few years, I was into PUBLIC ENEMY, RUN DMC, LL COOL J, BIG DADDY KANE, & KYLIE MINOGUE, while all my friends at school were into the PET SHOP BOYS & ERASURE. I thought I was a bit weird. I used to listen to Hip Hop on `Jeff Young's Big Beat' radio show on Radio 1 on Friday nights. Then he started playing 'House' music, and this weird twisty records known as 'Acid house'. Wongle, I thought, this is mental this is. I was saving my newspaper round & pocket money up and would buy 2 or 3 hip hop or acid house 12"s every week. Then one day I got a flyer for an 'acid house party' called 'Butter Loggie' in Middlesbrough, Easter 1990. EE-ZEE POSSE, RAZE, RICKY DA FORCE (KLF) & EVIL EDDIE RICHARDS (Jolly Roger, Acid Man), headlined the event. None of my mates would come with me, so I went all alone. I was crapping myself on the coach on the way down, all these people asking me if I wanted to by whizz, acid and E;s, waaah. I was on a bus full on junkies. Eventually got in the place, a huge wharehouse. I stood inside for a while, looking around, amazed at what was going on, 2 huge bouncy castles, everyone dancing mad, hugging & that, MC on a huge stage, it was amazing. I stood in the same spot for about 2 hours, until I plucked up the courage to dance. Incredible it was. These 'acid parties' were on every Bank Holiday in 1990, with people such as GURU JOSH, THE SHAMEN, NIGHTMARES ON WAX, and even LENNY DEE, back in 1990! The music was so varied back then. In the space of 20 minutes you could here a Hip Hop Record such as 'KING BEE - Back By Dope Demand', Belgium techno 'NEON - Dont Mess With This Beat', & HAPPY MONDAYS - 'Step On' and that, amazing.
These eventually died off, and after going to a RAINDANCE, AMNESIA HOUSE and an event called 'TIME' in Birmingham, Newcastle came alive with an event called REZERECTION in the Mayfair, in 1991. I went to these every month, got well into then, rubbing Vicks vapourub on me face and on me balls. Then the big Rez Allnighters started in 1993 in Scotland. The music was mainly breakbeat with the likes of DJ SS, DY SY, DJ FACE, N-JOI, PRODIGY & SHADES OF RYTHEM. I wasnt keen on the happy piano & breakbest sounds, and prefered DJs like CJ BOLLAND, DAVE ANGEL & JOEY BELTRAM who at the time were playing all noisey headfuck techno. It was hard to get hold of the records they were playing, so I was still buying breakbeat records, but more of the harder, hoovery stuff. Then I was in BASS GENERATOR RECORDS one Saturday, and there were loads of `stompy' techno records in. They were mad!. The likes of `Poing', DYEWITNESS and the early hardstuff on `BONZAI RECORDS'. Excellent. I decided that day to ditch the breakbeat collection, and concentrate on this mad `stompy' stuff. The `stompy' term tunred into `gabber' then there were tons of records getting released on RUFFNECK, KNOR, BRRRR, RAVE etc. I was spending 50 quid a week, most weeks, buying all these new Dutch records. I got a bank loan for some technics, done a few tapes, all of the new gabba stuff and got my first proper gig at JUDGEMENT DAY 4, in Newcastle, in 1994 alongside LENNY DEE. I couldn't believe I was on the same night as LENNY DEE, and back in those days it was supprising how many people had never heard of the man. The odd one off gig followed, including getting barred the FUBAR in Stirling Scotland for being to fast, and gigs in the early days at NOSEBLEED, Rosyth, Scotland. As the music I was buying and playing got harder & harder, JUDGEMENT DAY only had 1 arena at the time, so I hardly ever played there, and put on small events around Newcastle called 'DOLIK'ED', to keep the ever growing hardcore gabba scene alive in the North East and brought LOFTGROOVER & DJ FREAK to Newcastle for the very first time at my Birthday Party in 1996. What a mad party that was! Kiss-o-gram for me, all caught on video, bahhh. At one of these parties, I Dj'ed under the name 'DJ IMITATION BEARD' and wore a big black beard, long black wig, and had an elastoplast on the side of my face with 'DOLIK' on it. Half way through a hard set I played 'Freedom' by QFX. The hard ends looked puzzled, and the cheesers got up to dance. I pulled the needle across the record, snapped the record, took off my T-shirt to reavel another T-shirt saying 'QFX are fuckin shite'. The whole place went bezerk, ha, was great. I got a phone call from QFXs manager a few weeks later going off it! hehe. I've met them since then, and there cool about it, nice lads & lassies! Anywayz, with the small hardcore scene in Newcastle still buzzing, after much demand, the now infamous hardcore arena at Judgement arrived!
I did get barred from DJing at NOSEBLEED for nearly a year once, for being completley rat-arsed one night. In the old days there, the promotors used to buy me a bottle of whiskey everytime I played there, Once night, I drank most of it before I played and had to get carried to the DJ box. The left deck was forked aswell. Everytime the arm got to a certain point on the deck, it stuck. This & being pissed led to a very bad set! Im pleased they did ban me in a way, it taght me a lesson. Now I just get waisted after a set!
What sort of style do you describe yourself as playing now?
I play hardcore gabba, noisecore, speedcore, whatever you wanna call it. I play stuff I would want to hear if I was out there on a dancefloor. My sets have slowed down a lot now, instead of just banging out insane 250bpm+ for an hour, I may start around 200 and build up. Realising that you can still be hardcore and a slower tempo. I wish some of the up+coming DJs would realise this! Every set will vary, depending on the time I'm playing and who else is on the line-up. For instance if, LOFTY was on the same event as me, I wouldn't play many guitar trax, stick to the noisier stuff. Its all about variety on the night. Some up & Comings just play to there mates, or to the 'big name' DJs of the night. Develop your own style, and work on it.
I also play 'newstyle' Rotterdam sets at Judgement Day every 2 months, back 2 back with Bass Generator, for 3 or 4 hours. Non of this cheesy pop-rave stuff that was around a couple of years ago. This stuff is tough & dark. Spooky horror sounds & the like. The new sound is based on the slow, dark German KOTZAAK/COLD RUSH/DANCE ECSTACY type sound, of around 150BPM. I am more known for the harder stuff, and will only play a Rotterdam set, when I am put on the flyer as playing that. But, I mainly prefer playing the harder, faster, noisey stuff.
I am also starting to play 70s disco sets. Got myself a huge 70s record collection! There's this 70s bar in Newcastle called 'FLARES'. I can be seen regularly getting down to some serious cool grooves there, YMCA, Grease & that. So, if anyone out there fancies a chill out room with a difference, book DR SMURFY & HIS FEELGOOD FINGERS!
What can we expect to hear from you production wise? Have you had any tracks out before, and is there anything lined up?
Current Releases:
GGM v EXTREMENT (UK, HARD OF HEARING 8) 5 tracks on there, 2 buy me called 'Cockrot' and Nobrash'. These were my first attempts and creating music, so are both a little basic!
Forthcoming Releases:
GGM v FISTERS (STRIKE RECORDS, Australia) (Newcastle Australia v Newcastle UK)
RYAN CAMPBELL, TECHNOTRANCE & DJ SMURF - Judgement Day Sampler Volume 1 (UK, Judgement Day Records) this includes the 'Shitter' track Ive been playing for a while, Beavis & Butthead 'diahorea' rapping, lots of farts, and shitting sounds.
SMURF v UEP (UK, Crapshoot) ME v the GGMs DJ UEP, my track full of perverted sounds and rude noises.
2 trax from Me on Double LP on SURBURBAN TRASH RECORDS Germany, (NOIZECREATORS new label)
In Progress:
REDHEAD V BLUHEAD (LOFTGROOVER V SMURF) (REDHEAD RECORDS UK)
Remix of DJ FREAKS 'Romper Stomper'
THE FEELGOOD FINGERS EP feat, gabba mixes of YMCA.
Basically, all me releases will have some sense of humour in them. In the old days I loved tracks by ROB GEE, CHARLIE LOWNOISE & MENTAL THEO, EUROMASTERS etc, as they were hard and had funny samples or noises in them. The gabba dancefloor was full of mad people, stomping around looking fierce and a hard record with a funny sample, or a strange noise would bring a slight smile to the hardest of gabberz, which was nice. /P>
A lot of people are complaining that the scene is becoming too stale, and it is declining. Do you feel this is true, and what should be done about it in your opinion?
Well, I feel the mainstream 'rave' scene is very boring, especially Happy Hardcore. I'm not wanting to have a go at happy DJs as I have a lot of respect for some of them, doing there own thing. From what I've heard of BRISK & SLIPMATT in the past, there mixing skills are incredible, but all this pop song rip-off crap is absoloutely terrible, Theres no talent in taking a popsong and sticking a 4/4 kick drum behind, with an off beat stab! It all sounds the same! Well, I suppose the happy squad think all gabba is the same, hmmm. Even the soundcrew at JUDGEMENT DAY hate the main happy arena! They have do draw short straws to see gets the job of working the main desk. Even the main dancers hate it and have started to dance in the hardcore room for most of the night.
The mainstream 'ravey' gabba/hard techno scene is suffering aswell. HELTER SKELTER, DREAMSCAPE etc have the same DJ line-ups at almost every event. No disrespect to the DJs, as they are all good, but the promotors could do with a change every now & again, instead of sticking to the same format all the time. This is an opinion shared by the happy ravers aswell. But alas, The 'underground' hardcore techno/gabba scene is getting much stronger. Every week theres a stand out track gets released. Gabba is a worldwide culture, unlike Happy Hardcore which is mainly UK based. France, Germany, Australia, Sweden, Switzerland, USA, Canada, New Zealand, and the UK all produce some excellent tracks. Some of the stompy noisey stuff coming out of France at the minute is amazing. Excellent kick drum patterns full of nasty industrial sound effects. Germany has went really dark & moody. KOTZAAK releases just get better & better and LORD NORD is releasing some lovely dark stuff aswell. Its just getting better & better.
It was a shame when NOSEBLEED closed down in Scotland, but now that SIMON UNDERPANTS has took control, there are some amazing line-ups coming up, and the hardcore scene can only get much better. i cant wait to see some of these blokeys play there!
A few years ago Rotterdam hardcore was pretty big in the UK, now hardly anyone plays it. Why do you think this is, and do you reckon it has a place in the future hardcore scene? Surely with the new skool sound coming through it's better to "forgive and forget" the cheesy period?
Rotterdam hardcore was THE hardest music a few years ago. at around 170/180BPM I used to think it was mad. I remember SOURCE CODE on KNOR 1, I thought that was the maddest thing Id ever heard. Not to mention those mental EUROMASTERS records, ha. The Rotterdam scene was huge in Scotland, with BASSY G G being the main man. All the top Scottish Jocks at the time started playing the Rotterdam stuff, and the likes of RUFFNECK ALLIANCE & HUMAN RESOURCE were regular visitors to the FUBAR & REZERECTIONS.
The Scottish have always been lovers of 'big choons'. SCOTT BROWN & his many labels caught onto this and produced some huge bouncy techno anthems, based on the gabba sound of hard kicks & hoovers. This sound made its way back to Rotterdam and out came all those shitty pop-song gabba crap shit bog arse nonsense stuff. Rotterdam Djs were coming to REZ and playing ULTRA-SONIC & EVOLUTION RECORDS! What the fuck! This was good in a way coz it pushed hardcore gabba underground. Only the hardest were left. PAUL ELSTAK was responsible for most of the crap that came out, but I still respect him for starting the whole gabba scene back in the days. The harder Rotterdam sound is coming back in over in the UK. Some of the slower dark stuff is incredible, just as good as PCP stuff.
Do you have any residencies? If not, where is your favourite place to play?
I love playing everywhere. Its nice to get out, have a good time, and if I can DJ for an hour aswell, thats a bonus. I am currently resident in the hardcore room at JUDGEMENT DAY in Newcastle, along side other GGM members, UEP & ROB SAUNDERS. I was also a sort of resident at NOSEBLEED, stepping in when DJs didn't turn up (and things) and at times playing for free, when cashflow was tight. NOSEBLEED was the best club in the world. The punters were amazing. Like all Scottish crowds, they are always up for a party, and the friendly atmosphere was great. I was always made to feel welcome up there, and will really miss the journey up there every 2 weeks.
JUDGEMENT DAY is great aswell, playing in front of a home crowd, but there is a slight tendancy to get a bit waisted there,with the free alchohol backstage! But that is left to after a set, which is usually early! Theres been some great times at JUDGEMENT DAY, hehe. 1 party was on a huge ship on the Tyne in Newcastle. A small room was hired for BASSY Gs birthday, and LENNY DEE & myself played. A big PA system was hired. The vibrations of the music, caused half the roof to come down, hehehe. They wont lettuce have another party there!
The gabba room at JUDGEMENT DAY is crazy! It used to be in a tiny little room, with the only light being a strobe and a light for the DJs. From it opening its doors at 6pm, the music was a constant 250BPM+ right the way through till 1am. DJ TRON came over from the USA and he loved it. He said it was great playing such fucked up fast music to people and seeing them really get into it. The room was ram packed from start to finish and it got moved into a bigger room.
I was also resident at a Fetish party in Newcastle every month, along with BASS GENERATOR, hehe, what crazy nights they were. Held in a small bar in Newcastle, with a strict dress code of, leather, PVC, goth, transvestite, ie no cotton or jeans, the place was full of lesbians, fondling each other on the metal beds, swings, tie-ing each other to shackles and licking them, ooh, jism, hhmm, err, yeah. I used to wear my girlfriends nightie, pink rubber gloves, big brown Caterpillar boots & pink socks. Music we played was dark PCP style gabba, and oldskool techno & acid. The weirdos got really into the hard beats & dark sounds.
I also enjoyed playing at NORTH, in Stoke, even though I was on first, when no-one was there, and I split me fingers open on a SPICE GIRLS cup, someone (Taffy) gave me out the crowd.
Some of my most memerible nights have been:
Clearing the dancefloor at DIEHARD at 7 in the morning.
Playing 300BPM gabba in a house room at MAGIC KINGDOM in Northern Ireland.
Getting a blow job while DJing,
Djing as SMURFETTE, wearing my girlfriends skirt, boob tube and a 6ft long mermiads wig,
Djing naked, using my chopper to move the X-fader,
Breaking me foot falling down the stairs at NOSEBLEED, & having to DJ on one leg,
Leaving LOFTGROOVER stranded in Stoke,
Stripped down to an Indians head G-string on stage,
Dropping my mobile phone down the toilet when I phoned someone so they could listen to me being sick,
Dressing as a Teletubby,
Seeing the SPICE GIRLS, LOUISE & GARY GLITTER in concert.
Basically, as you may can tell, I like to have a laugh, party, have a good time. I don't care what I get up to or how silly I look, as long as other people can have a laugh at me, I don't care. I like to think of a night of DJing as a night out, and make the most of it. I've had a great time partying over the years, and met loads of great people and hope to carry on partying until I drop!
Do you have any other plans for the scene apart from to carry on Djing? What else can we expect from Smurf in the future?
I would really love to get into places like HELTER SKELTER & DREAMSCAPE, especially now I have a mortgage to pay. I will carry on producing records, when I get the time. I live a very hectic life, with a 9-5:30 office job during the week. Mondays are hell after a weekend of partying. With hardly any sleep, and working during the day is a killer, all I want to do when I get home is sleep.
Im going to college to learn how to program in Java, and to take cookery lessons. Myself & DJ UEP will be getting the GEORDIE GABBA MAFIA PA sorted for later this year and hope get my 70s disco shows on the road, and start playing 70s disco music in the chillout room at JUDGEMENT DAY.
Thanks over the years to:
BASS GENERATOR, DAVID & WENDY at NOSEBLEED, NOSEBLEED & JUDGEMENT DAY NUTTERS, ANDY VORTEX, DJ Q, BELLS WHISKY, ALCO-POPS, FISH PIES and NORTHERN ROCK BUILDING SOCIETY
Repects to:
LENNY DEE, LOFTGROOVER, DJ FREAK, PRODUCER, SCORPIO, SIMON UNDERPANTS, MARK N, SASS, SPIKE'S CRAPSHOOT, DELTA 9, DJ TRON, DOLPHIN, MANU LE MALIN, CLARKEE, DEATHCHANT BOYZ, BRISK, MARK EG, FX, MC G, SMARTIE, TECHNOPANTS, NEOPHYTE, JOHN at ISR, OLIVER CHESLER, NOIZECREATOR, SPEEDFREAK, MARCUS @ DIEHARD, JIMMY NAIL, TED JARVIS
Love to my Fiance, ABBY
Interview by Paul Zykotik, July 1998
© 1998 scottishhardcore.co.uk - No un-authorized nicking
8